This holiday season will be quite different as we find new traditions and ways to connect with our family and friends, near and far. To help you out a bit in your search for gifts for people who are blind (and the people who love them!) we went to work to create a gift guide of ideas to help bring us together even when we have to be apart. We looked for the cool, the new, and the fun.
We also looked for ways to support small businesses and entrepreneurs who are blind, and we encourage you to do the same. You may also enjoy putting a special finishing touch on your gift by sending along a custom large print or braille greeting card. For gifts for kids who are blind, check with a locally owned toy store about the avenues they have to provide you with accessible toys. And lots of these small businesses are happy to ship!
Our best piece of advice is, with all the challenges around us this year, shop early and make allowances for shipping delays. Wear a mask, wash your hands, social distance, stay safe!
For the techie
Feelif is a tablet with a special tactile grid that enables the user to orient the user to the areas of the screen. Using a combination of vibration, sound and visual information, kids who are blind or visually impaired are presented with a multi-sensory experience. The content is developed specifically for the blind and visually impaired. Kids can play games, make drawings, and take photos.
Dot Watch is refreshable braille technology put into motion and integrated into a mobile form. You can tell time, answer calls and read messages on this smart braille watch. The vibration on the Dot Watch will alert you each time. Not only is it designed for accessibility, it doesn't sacrifice comfort or style doing it.
For the fashionista
"Good design shouldn't exclude anyone," says Alexa Jovanovic, founder of Aille Design. The company's designs are inclusive, fully legible for braille readers, and destigmatize disability and educate about the importance of inclusive representation in the fashion industry. As a true sign of the times, they have created braille face masks with fun sayings, including "Chin Up, Mask On" and "I Love Your Mask." 
Eye Power Kids Wear was founded by a mom whose son was born with vision impairment. "We started Eye Power Kids Wear to help Scott grow up proud of his eye patch and glasses. I wanted him to grow up feeling proud and excited about who he is. 
Need something extra special for that special someone? Have a custom phrase embossed on a piece of braille jewelry, or choose from designs that incorporate "Listen", "Shine", "Breathe" and more. You'll find puppy love gifts for guide dog lovers and cane charms for white cane users from Braille Design. And do you know what else is cool? All of the products are made by experienced braillists.
Inspired to start spreading the gift of joy? 
If you're shopping on Amazon, consider using Amazon Smile and selecting Perkins School for the Blind. AmazonSmile is a website operated by Amazon that offers the same products, prices, and shopping features as Amazon.com with one special difference. The AmazonSmile Foundation donates 0.5% of the purchase price of eligible products to the charitable organization of your choice.
For the classic board game lover
Since we're now on devices more than ever with remote learning and zoom meetings, wouldn't it be nice to have some fun playing tactile classic board games and card games? There are many accessible options available in large print and braille so the entire family can play. You'll find Monopoly, Scrabble, Go Fish, Braille UNO, tactile dice, traditional playing cards in braille and large print, and many more! Who's ready to make game night fun for everyone? 
For the athlete (or budding athlete) in your life
The Braille Bookstore carries accessible sporting goods such as audible soccer, disc soccer, football, basketball … as long as that ball beeps, that blind or visually impaired child can compete! There's even a talking pedometer for those who count their daily steps.
For the foodie
Help create an accessible kitchen and make meal-prep a family activity. We found lots of easy to implement (and cost-effective) gifts for kids and adults who are blind. These Candoable Reusable Braille Labels make containers easy to identify, while tactile bumps can be used to mark appliances and more. Or go high-tech with accessible technology gifts that identify products, objects and text using mainstream devices. 
You can find braille measuring cups, spoons and cookbooks from the Braille Bookstore's Kitchen Corner. Or, browse National Braille Press gift selections for ideas like the Stir It Up! Recipes & Techniques for Young Blind Cooks. For those searching for something heartfelt, you'll love the braille mugs and personalized ASL gifts on Etsy.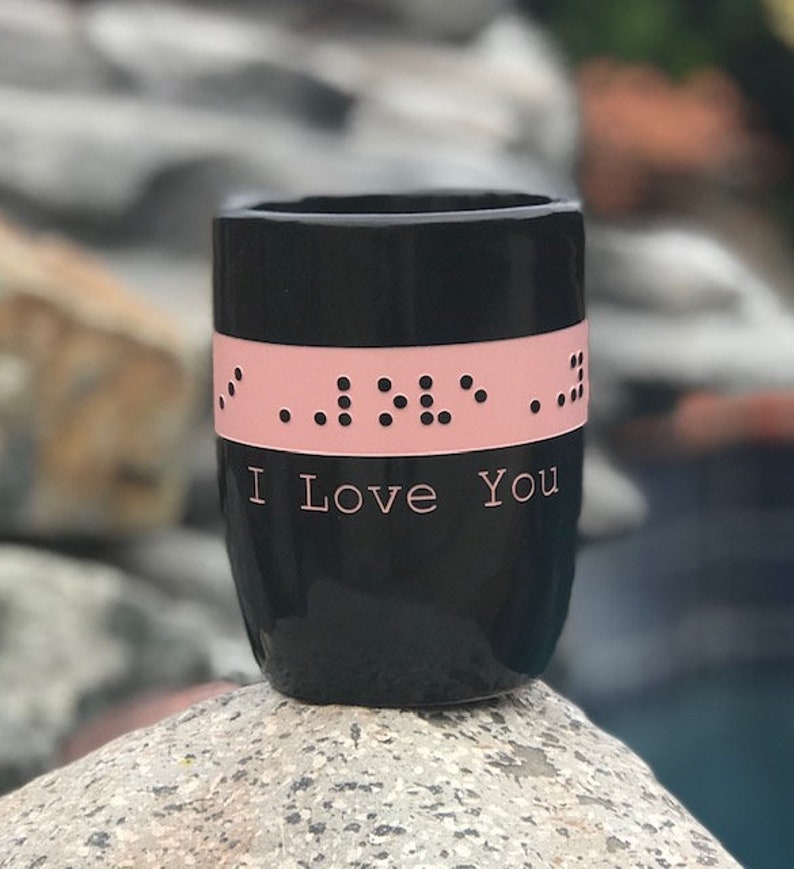 John Furniss (also known as The Blind Woodsman) is a blind woodworker who makes *incredible* bowls, pots and more.
Lake Geneva Coffee Roastery is owned and run by Jeremiah Fox. Because Jeremiah is legally blind, he uses his keen sense of smell, hearing, and taste to create his roast profiles using the assistance of talking timers and tactile points on his machine's controls so he can adjust the temperature and airflow.
For the music aficionado
If music is more their passion, how about a ticket to the Tran-Siberian Orchestra Livestream on December 18th at 8pm EDT. Grab a ticket for yourself and have something to talk about the next time you Facetime. The San Francisco Orchestra is hosting Deck the Hall Virtual Celebration on December 5th and 6th. Can't make those times? Enjoy encore recitals anytime from the Boston Pops or our very own Perkins' Secondary Chorus! Take a few minutes to find out what's happening in your local music scene and make a difference by supporting an up and coming musician.
Looking for ways for your recipient to create her own one-of-a-kind music? Skwitch is a clever new music-making gadget & app from the hardworking folks at Skoogmusic. It clips straight onto your iPhone and uses the onboard sensors to create a one-button musical instrument that is responsive, expressive and amazingly versatile. Just press the button to play notes. The Skwitch uses its built-in sensitivity to understand short and long presses and translate them into an accessible Bluetooth navigation button. And not only will it allow you to navigate through your devices, but you can also even use it to learn how to code in Swift Playgrounds.
For the book lover
The Lux + Louise multilingual songbook for blind children exposes them to Dutch, English, French, and German from an early age and allows them to explore this world independently. The songs have been recorded and are available on YouTube and Spotify. The creator of the book, Laura Steinbusch of Lux + Louise, was inspired by her young son Enzo, who was born with Leber congenital amaurosis (LCA). Enzo loved learning other languages through songs.
You'll receive 1 book containing:
5 children's songs in 4 languages (EN, FR, DE, NL) which can be listened on Youtube and Spotify
All text and music in print and braille
6 tactile illustrations with explanations and questions
You'll be able to sing, discover illustrations and learn to read text and music together.
DK Braille Books are also inclusive for the young braille readers and the entire family with braille, print, as well as tactile images. You'll find selections featuring topics such as fun facts, animals, shapes, counting, and transportation. 
---
Know another small business we should add to this list? Please post to our Facebook page!